Research

We represent supervisors through credible advocacy that is backed by sound research. GPSA is open to partnering with relevant health sector policy makers and representatives on research that can give new insights into the GP training climate and the contribution that supervisors make to it.
Please contact us if you wish to discuss a potential research proposal.
Recently completed research
GPSA 2022 National Supervisor Survey Report
According to GPSA's national survey of its members, GP supervisors who feel well-supported in their workplace, avoid working when unwell, and practise self-care have lower levels of burnout and are more likely to remain in GP training for the next 5 years.
GPSA surveyed GP supervisors in March-April 2022 and found that over 70% of GP supervisors had high levels of burnout, which was associated with lower levels of engagement in selfcare activities (including professional support, professional development, life balance, cognitive awareness, and daily balance). Younger GP supervisors were at greater risk of burnout.
Working while unwell and the belief that selfcare/wellbeing could be better supported in the workplace predicted high levels of burnout. In contrast, GP supervisors who intended to supervise for the next 5 years and were engaged in professional development were much less likely to experience burnout.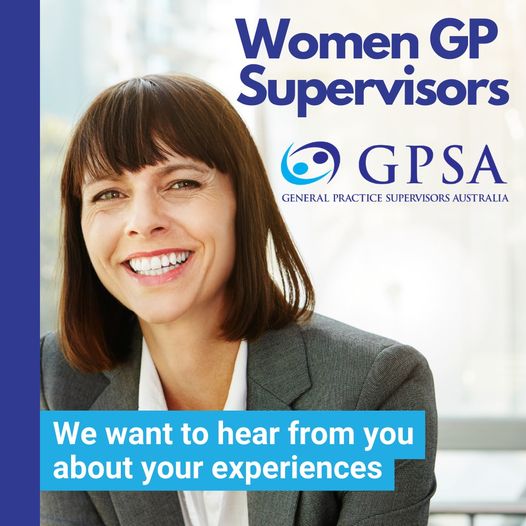 GPSA recently completed a narrative analysis  research project interviewing female GP supervisors about why women GPs supervise registrars, or choose not to.  This GPSA funded research project aims to inform how to address the conditions to make it easier for women to supervise registrars in general practice.
This research was conducted in partnership with Monash University School of Rural Health, EV GP Training and Melbourne University.
The research findings present significant issues that intersect to potentially impact the interest and capacity for women to join and be retained in the GP supervision workforce. The findings can be applied to developing more specific resources, supports, and structures to enable women to participate in and sustain GP supervision at the level that they find acceptable and rewarding.
The full research report can be found here.
Research exploring the true cost of GP supervision

GPEx, in association with the University of Adelaide and GPSA, recently completed a study on the financial costs and revenue associated with teaching and supervision in Australian general practices. Experienced GP Supervisors and practice managers were asked to complete a short online questionnaire to describe the teaching and administrative activities associated with teaching GP registrars in a practice and the time spent on such activities to determine the cost of these activities. We hope that the results from this research will inform future policy and practice.
This research study was approved by the University of Adelaide Human Research Ethics Committee (HREC-2021-016).
Research underway
Interpersonal conflict in GP Training research
Analysis and knowledge translation is well underway for this joint research project between GPSA, GPRA and Monash University which gathered experiences of the sources and context of conflict in the GP registrar–supervisor relationship. This study involved the development of a draft guide for proactively managing conflict in training placements based on the results of an online survey of GP supervisors, practice managers and GP registrars; we then undertook a large number of interviews and workshops with surveyed participants to evaluate the usefulness of the draft resource. We are currently revising the outputs in accordance with this process, which will be made available on this page once complete. This study was approved by the Monash University Human Research Ethics Committee (project number 28176) – for more information, please see the Explanatory Research Statement. 
Completed GPSA research
Image
Title
Description
Download Link
Date
GPSA 2022 National Supervisor Survey Report​
This report summarises the perspectives of GPSA members about their wellbeing and self-care experiences over the past 12 months.
Download
July 2022
Enabling uptake and sustainability of supervision roles by women GPs in Australia: a narrative analysis of interviews
This narrative inquiry aimed to explore the uptake and sustainability of supervision roles for women GPs in the Australian context.
Download
May 2022
Developing supervision capacity for training rural generalist doctors in small towns in Victoria
This project aimed to explore enablers and barriers to the supervision of RG2 learners across a core generalist curriculum in distributed towns in three rural Victorian regions.
Web Version
February 2022
The financial costs and revenue associated with teaching and supervision in General Practice
This project aimed to better understand the sustainability of GP supervision by determining the associated financial costs and revenue. This study included: interviews with supervisors (n=9) and practice managers (n=9); a survey of supervisors (n=238) and practice managers (n=142), and; a cost-revenue analysis.
Executive Summary
May 2022
Mandatory bulk billing policies may have differential rural effects: an exploration of Australian data
This study aimed to understand the patterns of bulk billing nationally and explore the characteristics of practices more or less likely to bulk bill patients, to identify the potential impact of a rapid shift to bulk billing only policies.
Web version
March 2022
Supervision Roadmap: Rural Generalist Training in Victoria
This collaborative research project lead by GPSA aimed to explore and expand on existing evidence about rural supervision to meet the learning needs of the RG2 group across the Victorian Rural Generalist Program curriculum. It specifically focused on three rural regions of Victoria: Hume, Loddon Mallee, and Barwon South West. Further, this project aimed to use this information to develop a Supervision Roadmap to guide the implementation of high-quality supervised learning across the core generalist curriculum in regional Victoria.
Executive Summary
October 2021
Developing supervision capacity for training rural generalist doctors in small towns in Victoria
This project aimed to explore enablers and barriers to the supervision of RG2 learners across a core generalist curriculum in distributed towns in three rural Victorian regions.
Download
October 2021
Exploring attributes of high-quality clinical supervision in general practice through interviews with peer-recognised GP supervisors
This research undertaken in 2019-20 interviewed 22 peer-recognised GP Supervisors and identified 7 key areas associated with quality supervision. These included reflecting and learning from other supervisors, structuring learning, caring relationships, involving the whole practice, learner centred approaches, building independence and encouraging reflection. This research was undertaken by GPSA with the support of the Australian Government's General Practice Training Program.
Download
August 2021
Report on 2021 GPSA supervisor survey Part 1: The future of GP training
The 2021 GP Supervisors Australia (GPSA) Annual Survey revealed 70% of GP supervisor respondents were satisfied or very satisfied with their Regional Training Organisation (RTO).
Download
May 2021
Part 2: The single-employer model
There is strong policy debate about adopting a single-employer model for GP registrars, which involves registrars being employed by an entity outside of the practice where they are training, on a salary.
Download
May 2021
GP Clinical Learning Environment Framework research
The GPCLE is a new framework to guide continuous quality improvement of the practice learning environment. The GPCLE has been adapted for general practice training environments from the Best Practice Clinical Learning Environment (BPCLE) Framework as part of a research project funded by the Australian Government via the Australian General Practice Training (AGPT) Program.
Download
February 2021
A framework to guide the implementation of best practice clinical learning environments in community general practice: Australia
We aimed to develop a consensus-based framework to guide the implementation of high-quality learning environments suitable for the range of general practices and clinical learners
Download
January 2021
Challenges in General Practice during initial COVID 19 response
This study involved a national online survey of Australian GPs and was conducted in April and May 2020, with 572 respondents. We found that the response to the COVID-19 pandemic in Australia has resulted in major changes to general practice business models.
Download

November 2020
A national survey of COVID-19 challenges, responses and effects in Australian general practice
The objective of this study was to explore challenges, responses and effects of COVID-19 in Australian general practice in the early stages of the pandemic
Download
November 2020
Supervising GP registrars – who does and doesn't participate and why?
General Practice Training Tasmania (GPTT) in partnership with General Practice Supervisors Australia (GPSA) and Monash University invited 25 GPs to participate in a study designed to better understand the reasons why general practitioners (GPs) do or don't supervise GP Registrars in rural areas of Tasmania and why. This study is the first systematic analysis of GPs participating in registrar supervision and what underpins their decision to participate.
Download
September 2020
An exploration of the experiences of GP registrar supervisors in small rural communities: a qualitative study
Exploring what makes rural GPs' based outside of major regional centres, participate in supervising or not, their experiences of supervising, and impact of their practice context.
Download
September 2020
Adaptation and initial examination of the psychometric properties of the Short Supervisory Relationship Questionnaire (SSRQ) for use with general practice registrars
This paper presents an adaptation and initial validation of the clinical psychology supervisory relationship measure for GP registrars in an Australian context.
Download
August 2020
Factors related to rural general practitioners supervising general practice registrars in Australia:'A national cross-sectional study'
This research aimed to use nationalscale data to explore the factors related
to rural GPs participating in registrar
supervision.
Download
Jan-Feb 2019
Measuring the educational alliance from the supervisor's perspective (GP-SRMS)
The project set out to adapt and validate a tool to measure the educational alliance from the GP Supervisor's perspective. The result is the GP-Supervisory Relationship Measure for Supervisors (GP-SRMS) which is now validated for use in the AGPT program and the Australian general practice sector. It is understood that this is a world-first.
Summary Findings
November 2018
Measuring the educational alliance with supervisors from the registrar perspective (GP-SRMR)
Following on from the successful work of GPTT, GPSA and Monash University to develop the GP Supervisory Relationship Measure for Supervisors (GP-SRMS), the GP Supervisory Relationship Measure for Registrars (GP-SRMR) project has successfully adapted and validated a complementary tool to explore the relationship from the registrar's perspective.
Download
November 2018
External research 
| Image | Title | Description | Download Link | Date |
| --- | --- | --- | --- | --- |
| | Learning to recognise what good practice looks like: how general practice trainees develop evaluative judgement | This paper explores how Australian general practice (GP) trainees develop their evaluative judgement. | Download | December 2021 |
| | Integrative Medicine in General Practice in Australia: A Mixed-Methods Study Exploring Education Pathways and Training Needs | This study aimed to map the Integrated medicine education and training pathways and needs of a cohort of Australian GPs | Download | December 2021 |
| | Associations of anticipated prescribing of long-acting reversible contraception by general practice registrars: A cross-sectional study | The aim of this study was to establish general practice registrars' LARC training/insertion experience, as well as frequency of and factors associated with choosing LARC in response to clinical vignettes | Download | December 2021 |
| | Mid-career graduate practice outcomes of the James Cook University medical school: key insights from the first 20 years | This study investigates whether non-metropolitan practice location outcomes continue into mid-career, and identifies the key underlying demographic, selection process, curriculum and postgraduate training factors associated with JCU graduates choosing to currently practise in regional, rural and remote areas of Australia. | Download | December 2021 |
| | Exploring Doctors' Emerging Commitment to Rural and General Practice Roles over Their Early Career | This study aimed to explore changes in the level of certainty about career interest in working in general practice and working rurally, as doctors pass through various early career stages. | Download | November 2021 |
| | Barriers to getting into postgraduate specialty training for junior Australian doctors: An interview-based study | This study explored the barriers of pre-registrar (junior) doctors getting into specialty training programs to inform tailored support and re-design of speciality entry systems. | Download | October 2021 |
| | Longitudinal Outcome of Programmatic Assessment of International Medical Graduates | The current standard assessment for IMGs is by clinical examination in observed structured clinical encounter (OSCE). This study introduced a programmatic performance-based assessment for IMGs. | Download | September 2021 |
| | Training and retention in rural and remote Australia: Examining the association between GP vocational training placements and subsequent practice location in Western Australia | This paper aims to provide insights on the association between exposure to rural general practice vocational training placements and subsequent rural practice location in Western Australia. | Download | August 2021 |
| | PQRST: A framework for case discussion and practice-based teaching in general practice training | In this article, a new five-stage model of case discussion is proposed: PQRST. The stages are: P – What is the patient's problem?, Q – What is the registrar's question?, R – How well does the registrar reason?, S – What is the solution?, and T – What can be taught? | Download | August 2021 |
| | The opioid-prescribing practices of Australian general practice registrars: an interview study. | To explore attitudes, beliefs, knowledge and self-reported factors influencing the opioid-prescribing decisions of Australian GP registrars. | Download | August 2021 |
| | Immunising older Australians: Pre-COVID-19 vaccine perspectives from general practice training | This study explores general practice registrars' attitudes towards immunisation of older adults, the barriers faced, and the role supervisors play in developing adult immunisation skills. | Download | June 2021 |
| | Prescribing of long-acting reversible contraception by general practice registrars across different rural regions of Australia: A cross-sectional analysis of the Registrar Clinical Encounters in Training Study data. | This study aimed to describe the pattern of prescribing long-acting reversible contraception by Australian general practitioner registrars across different classifications of rurality/urbanicity | Download | June 2021 |
| | Flinders University rural medical school student program outcomes | The study demonstrates the strong correlation between the Flinders University RCS Program in South Australia and long-term rural medical workforce outcomes. | Download | May 2021 |
| | Queensland Rural Generalist Pathway: why do trainees separate without achieving a Rural Generalist end point? | The aim of this study was to learn from trainees separating from the Queensland Rural Generalist Pathway (QRGP) the reasons and circumstances around their decision so as to improve the efficiency of the program and experience of trainees. | Download | April 2021 |
| | Identifying the at-risk General Practice trainee: a retrospective cohort meta-analysis of General Practice registrar flagging | This study examines the predictive and consequential validity of flagging systems used by Australian General Practice regional training organisations (RTOs) in relation to Fellowship examinations. | Download | February 2021 |
| | Flags for seeking help: making supervisor expectations of general practice trainee help-seeking explicit. | This study introduces a tool, 'Flags for Seeking Help', which was modified from an existing checklist, to assist supervisors to tailor their input to the care of their trainee's patients. | Download | February 2021 |
| | Good help: a model for providing in-consultation supervision of general practice trainees. | This study introduces a model (β-LACTAM) to assist supervisors in planning and delivering their face-to-face in-consultation supervision. | Download | December 2020 |
| | Clinical supervision in general practice training: the interweaving of supervisor, trainee and patient entrustment with clinical oversight, patient safety and trainee learning | This study used focus groups and interviews with general practice supervisors to explore their approaches to trainee help-seeking and in-consultation supervision. | Download | August 2020 |
Research Participant draw winners
Thank you to everyone who provided information for our 2022 National Survey
The winners of our draw are:
Janus van Heerden
Monica Theron
James Courts